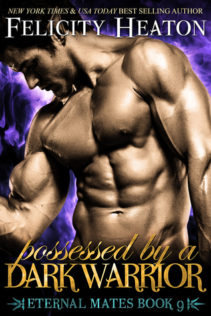 Possessed by a Dark Warrior (Eternal Mates Paranormal Romance Series Book 9)
by
Felicity Heaton




Series:

Eternal Mates #9




Published

on April 9, 2016




Genres:

Paranormal/Urban Fantasy




Pages:

326




Format:

eBook


Buy on Amazon
I received a complimentary copy in exchange for an honest review. This does not affect my opinion of the book or the content of my review.
Bleu is the right-hand man to Prince Loren (Kissed by a Dark Prince). But since his Prince has found his eternal mate, Olivia, Bleu finds that most of the duties which took up his day such as acting as counsel to the Prince, have been usurped by the new Princess. There is one task that Bleu was has never been able to complete and that is recovering the Elven Sword stolen by the dragoness over 700 years ago. He found her once and almost lost his life. He has the scars across his neck to prove it. The trail has been cold these last 300 years but a recent battle has brought her to Bleu's attention once more.
Taryn has spent the past 300 years in slavery being sold again and again, fighting off her newmasters each time until they finally sold her off. Thankfully a dragon slave was too rare to simply kill. She has been biding her time and finally found her opportunity to escape when the elves attacked the slave market. Her premonitions had warned her that the Elf was coming for her again so she wasn't surprised to catch Bleu's eyes across the battle field. Though she wasn't planning on sitting and waiting for him to grab her.
Taryn has plans of her own. Before she was captured by the slavers, Taryn had taken the stolen sword from her twin brother. His desire for power has been turning into an obsession and she knows that with the Elves's sword, he would kill many in his attempt to rule all of the Hell realm. Now that she is free, it is past time to bring the sword back to Tenak and kill him with it. Death is the only way to stop her brother's madness.
The only one who can stop her plan is Bleu. If he gets the sword first and takes it back to the Elves, her brother will destroy their kingdom to regain his prized treasure. Taryn needs to avoid Bleu a little longer until she can reach her brother and deal with him, or else all hope might be lost.
I first met Bleu when I read
Kissed by a Dark Prince
and since then I have been eagerly awaiting his story. Therefore, when I found out that his story had been released I was glad for the chance to receive a complimentary copy in exchange for an honest review. On a scale of 1-10, my expectations were a ten. Unfortunately, this installment did not live up to the standards that I had set.
Bleu has been secretly hoping to find his fated mate, especially when he sees his friends, finding happiness in the arms of their own mates. He wanted that same happiness, however, he was unwilling to acknowledge this not only to himself but also to his friends and family. Just when he thought he had found the one for his events arise revealing that this was not the case. This caused him to give up on ever finding the one female who he was destined to be with for eternity. However, unbeknownst to him, the dragon shifter he had been hunting for 700 years was the one he was destined to be with. He eventually figured it out, however, because he believed her to be an enemy to his people, he tried to fight the desires he felt when he came in contact with her.
Now with a storyline like that mentioned above, I was expecting an electrifying romantic adventure. Unfortunately, that was not the case as it paled in comparison to some of the couples in the series. This is not to say that I did not enjoy the story. The story was fine, but the romance left me unsatisfied.
I was intrigued by Taryn from the moment I was introduced to her in
Bitten by a Hellcat
. She has been a slave for three centuries as a result, she was harbouring a darkness within. This darkness tended to erupt whenever she was faced with a threatening situation. I could not help but empathize with her. She was conflicted. She was faced with the daunting task of ending her brother's reign of tyranny. She loved him, however, she knew that by whatever means necessary she had to stop him. I knew this could not have been an easy choice for her.
Characters from the previous installments played a minor role in the story. I enjoyed seeing Vail again. He was such a tormented individual. It was great to see Bleu moving past the bitterness he had felt towards Vail which helped to open the door for healing. It is my belief that this will help Vail to overcome the darkness within him.
The battle scenes were vivid as always. The story was well written and it flowed from start to finish. The pace and intensity were just right. I enjoyed the banter between the characters. It was entertaining to see Bleu being teased about his mate. Here we see a man who vowed never to act like his friends when he found his mate, however, when that moment arose he realised he had no control over his actions. How the mighty have fallen.
Bottom Line: Although it did not deliver on the romance aspect
Possessed by A Dark Warrior
was a good read. What it lacked in romance it made up for in adventure. If you love paranormal romance, I recommend that you begin the series as soon as possible. The great thing about this series is that each book can be read as a stand-alone.